Leading Teams Effectively
If you are leading a team for the first time, it could seem like a daunting task.
You might have the following questions in your mind -
How do I enable my team members work collaboratively with each other?
How do I encourage them to communicate openly, even if it means respectfully challenging each other?
How can I ensure that team members are willing to experiment, make mistakes and learn from those experiences?
So join us in this learning experience, where you will learn to lead a team effectively.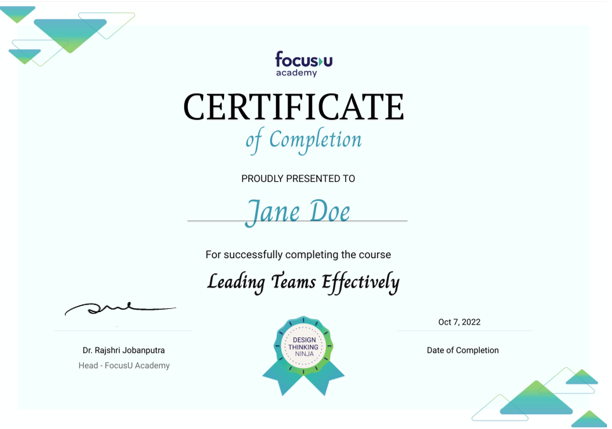 Who will benefit from this course?
Individuals who lead a team of diverse individuals in an organization
Individuals stepping into the role of a team leader for the first time
Leaders who are looking for ways to engage their team and drive results
Detailed Course Syllabus
Understanding the characteristics of a 'great' team and goes into developing one
Pre-course reflection questionnaire to assess one's team characteristics
Drawing lessons from Formula 1 and the Marshmallow Challenge
Module 2: Building Psychological Safety
Understanding the behaviors or team members in a team which has a psychologically 'safe' space
Insights from Google's study on team effectiveness
Drawing lessons from sports and the Navy
Identifying actions to increase psychological safety in the team
Scenario-based quiz
Module 3: Signalling Vulnerability
Understanding the impact of signalling vulnerability in the team
Drawing lessons from the world of politics, animation studios and the F&B industry
Identifying actions to communicate/ signal vulnerability
Module 4: Establishing Purpose
Drawing lessons from the pharmaceuticals industry
Understanding Simon Sinek's Golden Circle
How to use the Golden Circle to clarify the team's purpose
Practice exercise
Module 5: Clarifying Roles
Drawing lessons from the Penguins of Madagascar and the hospitality industry
Understanding the different types of team roles
Practice exercise
Time for you to practice what you have learned.
You have joined 'The Best Snitch Co' to lead a team of product developers. Navigate the various scenarios and help drive results for the organisation, while keeping the team engaged.
Know your Course Advisor
Arun Rao
Founder & Director, FocusU Engage
Arun Rao is one of the co-founders of FocusU Engage. A restless soul, always looking over the horizon, he is passionate about a vast canvas of topics ranging from building high-performance teams, leadership, innovation, marketing, copywriting, workshop facilitation and Phantom comics.

When he is not immersed in any of these passions, Arun spends most of his time reading, catching up with a close set of friends over beer, and sometimes binging on Netflix.

Arun lives in Gurgaon with his college-time sweetheart, who hasn't yet lost patience with him as his wife, and a precocious young daughter.