Mastering Hybrid Working
Skyla leads a team of talented professionals at ReDo Advertising. Skyla's team has bagged a deal with CheckIt, to launch SeeYou, a new stylish range of eyewear.


On the other hand, the senior leadership at ReDo has decided to experiment with hybrid working. Can Skyla's team deliver on CheckIt's expectations while navigating the complexities of hybrid working?

Join us on this storified learning experience and prepare yourself to master hybrid working.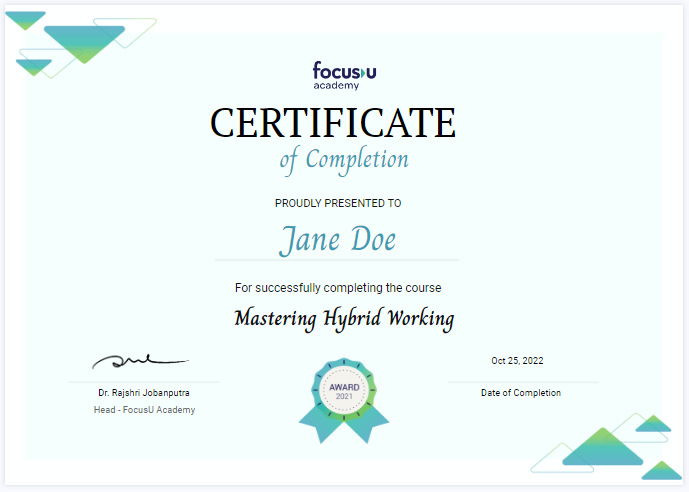 Who will benefit from this course?
Individuals working in a hybrid mode or planning to transition into one
Teams where individuals are working in a hybrid mode or across different time zones
Detailed Course Syllabus
Module 1: Hybrid Work Stressor
Identifying the various types of stressors that impact individuals in hybrid working



Module 2: Hybrid Workplace Toolkit
Identify ways to do deep work to enhance your productivity
Develop meaningful interactions at the workplace
Identify ways to overcome issues of collaboration in hybrid working
Tips to take better care of your physical and mental wellness to counter the stress of hybrid working
Module 3: Microsimulation
Time for you to practice what you have learned.
Skyla's team is gearing up for their next milestone - the launch of SeeYou across global online stores.
Navigate the various scenarios and help Skyla's team to achieve their milestone using the Hybrid Workplace Toolkit.
Drawing lessons from the pharmaceuticals industry
Understanding Simon Sinek's Golden Circle
How to use the Golden Circle to clarify the team's purpose
Practice exercise
Drawing lessons from the Penguins of Madagascar and the hospitality industry
Understanding the different types of team roles
Practice exercise
Time for you to practice what you have learned.

You have joined 'The Best Snitch Co' to lead a team of product developers. Navigate the various scenarios and help drive results for the organisation, while keeping the team engaged.
Know your Course Advisors
Dr. Rajshri Jobanputra
Head, FocusU Academy

With academic and industry experience spanning over 15 years, Dr. Rajshri Jobanputra
is a PhD in Philosophy from IIT Bombay. Beginning her career as an Assistant Resource Person at IIM Ahmedabad's Students' Personal and Career Development
Centre, Dr. Rajshri moved on to IIT Roorkee as Lecturer and later to IIT Madras as an Assistant Professor of Philosophy.


Realizing early on that her passion for teaching and learning could be extended to learners beyond undergrad engineering students, she took up several L&D roles at different organizations such as Wipro Technologies, Tata Management Training Centre, and KNOLSKAPE Solutions.


As Head of FocusU Academy at FocusU Engage, Dr. Rajshri oversees the design and development of tech-enabled learning products deployable across different mediums (ILT / VILT / online). With the primary motto and commitment to deliver a 'WOW' learning experience for all FocusU learners, she and her team ensure that they build learner-centric content products that are storified, gamified, and application-oriented.


A certified Dale Carnegie trainer, who also holds the Cambridge International Certificate for Teachers and Trainers (CICTT) from Cambridge University, UK, she takes a keen interest in the areas of meta-skills, experiential learning, and digital learning experience.


Her simplistic approach to life is depicted in her insistence on the importance of good health – mind, body and soul, and she believes in doing things that keep all of these in balance.
What our community members say
The course is elaborate and detailed, covering the key aspects of the hybrid working benefits and challenges. It helps the learner to understand hybrid working using different cases and examples which is really engaging. Overall, in terms of content and coverage, it's really a great course.
Debika Dutta
Associate Principal
TheMathCompany