Giving Impactful Feedback
Roger leads a team of key account managers at ShineEd, an online learning company.

Whenever Roger gives constructive feedback to his team members, he sees the conversation go downhill! Sometimes there is a defensive reaction, a blame game, or simply no progress!

Join Roger in this storified learning experience where you will learn how to give feedback that is structured, relevant and impactful.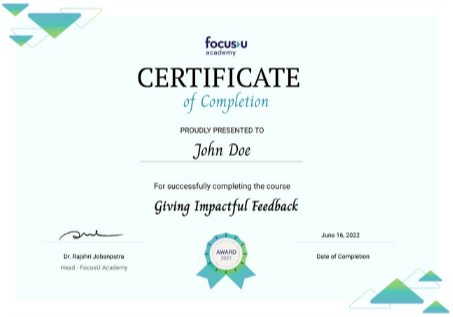 Who will benefit from this course?
People Managers across industries and functions

Aspiring people managers and team leaders
Detailed Course Syllabus
Module 1: Course Introduction
Complete a pre-course reflection questionnaire.
Meaning of feedback and examples from different industries.
Impact of poorly driven feedback vs timely and well-structured feedback.
Module 2: Feedback Triggers
Why do we feel threatened by feedback and how does it impact us personally?
What does the book 'Thank you for feedback' tell us about feedback triggers?
Impact of three types of feedback triggers-truth, identity and relationship.
Application Exercises
Video-based checkpoint quiz – Identify the feedback triggers playing out in various scenarios
Module 3: Giving Impactful Feedback
Introduction to a four-step approach to giving impactful feedback
Use 'PEP' to establish a safe space for feedback
Application Exercises
Audio clip-based quiz – Analyse a phone conversation based using the 'PEP' checklist
Module 4: The S-B-I Model
Use CCL's SBI (Situation Behavior Impact) Model to give structured and relevant feedback?
Application Exercises
Checkpoint Quiz to test the understanding of the S-B-I Model.
Apply the S-B-I model to give structured and relevant feedback in the given case study.
Module 5: Feedback as a Conversation
Six tips to listen actively in a feedback conversation
Use paraphrasing to listen actively
Use feedforward to arrive at a forward focus in a feedback conversation
Application Exercises
Checkpoint quiz to practice paraphrasing skills.
Module 6: A Mega Challenge
Apply the four-step approach to giving impactful feedback in a mega challenge.
Know your Course Advisor
Rakesh Balachandran
Co-Founder - FocusU Engage
Rakesh brings in close to 2 decades of rich experience across Corporate sales and marketing, Product management, Business development and Facilitation. His last stint before changing gears as an entrepreneur was as the Country Product Manager for Hewlett Packard India.
Rakesh holds a graduate degree in Electronics and Communication Engineering and a Post Graduate Degree in Management from Indian Institute of Management, Ahmedabad. He is accredited in administering profiling tools like the MBTI, FIRO-B and is also certified in the LSP methodology. His passion and high energy are some of the things anyone who has interacted with him will vouch for. Rakesh is also a TEDx speaker – you can see his engaging talk out here.
An avid sports follower, amateur snooker and cricket player – he is the biggest fan of Roger Federer we know of. A most voracious reader, if you ever need a book recommendation, look no further. From fiction, non-fiction, military strategy, adventure, business classics – he consumes it all with equal glee.
Rakesh has facilitated a wide variety of experiential workshops over the last decade spanning team building, leadership and innovation. Some leading organizations that have benefited from his expertise include Hindustan Unilever Ltd, Tata Communications, PepsiCo, DHL, Alstom, Audi, and Barclays amongst others.
I liked the structure made by the team to understand the situation, behaviour and impact. Most relevant to me were concepts like the feedback triggers. I found concepts like PEP and AAR to be unique. Overall the course was very useful.
Ajit Kumar Padhy
Sales Manager, Turtlemint
The course was relatable and useful. It was a unique way of learning and giving feedback. Great learning experience.
Swapnil Suresh Bhostekar
Team leader, Turtlemint