Foundations of Design Thinking
Tea & Trails, a quaint little café in a bustling city is struggling for survival.


Can Design Thinking help the owners find a way to overcome this challenge?


Join Olive and Joy in this storified experience, where you will learn when, where and how to apply Design Thinking to find solutions to the 'knotty' problems in business that don't have straight answers.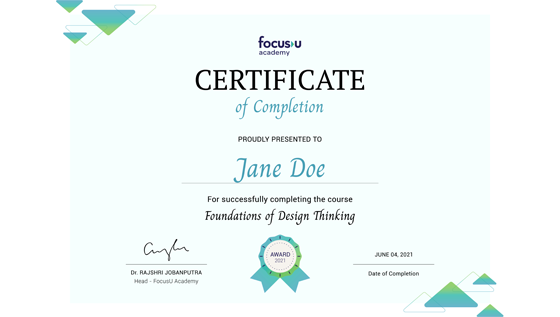 Who will benefit from this course?
Management students and professionals
Engineering students and professionals
Entrepreneurs and business owners
Marketing professionals
Product managers
Project managers
Detailed Course Syllabus
Module 1: The City of Dreams
When can you use Design Thinking as a problem-solving approach?
What is the mindset that is required to use Design Thinking?
What are the essential elements that constitute the Design Thinking process?
What are 'knotty' problems?
When should you NOT use Design Thinking?
What are Personas, and how do you build them?
How do you map the consumer's journey with your product or service?
How can you identify high points, pain points and opportunities for value addition?
Practice exercises to outline consumer persona and identify high points and pain points in their journey.
Module 3: Tapri, Snacks and Nicholas Cage
How can we gather insights about consumers through empathy?
How to observe consumers in their natural environment?
How to conduct an interview with a consumer effectively?
What can we learn from extreme users?
How can immersive empathy help us gain consumer insights?
Practice exercises to apply the 'what-how-why' tool and immersive empathy.
Module 4: A Matter of Framing
How to use an empathy map to organize all the observations and insights that you have gathered about consumers?
How to frame the problem statement?
How to set up your problem statement for ideation?
Practice exercise for empathy map and 'how-might-we' questions.
Why does Design Thinking follow a diverging and converging path?
When it comes to ideation, why is having more ideas better?
How to do a brainstorming session well?
How to use a framework like S.C.A.M.P.E.R to generate more ideas?
Practice exercises to apply the ideation tools.
Module 6: Edible Straws and Puzzle Mats
How to evaluate an idea and a prototype using the DFV framework?
What is the importance of developing a quick and early prototype?
How to develop a quick and early-stage/preliminary prototype?
How to capture feedback for your early prototype?
Practice exercises to apply the DFV Framework and outline an early prototype.
Shõan Shinde
Design Thinking Practitioner and
VP - Marketing at TurboHire
An alumnus of the Indian School of Business (ISB), he brings to the table an experience of a decade and a half in building brands and businesses, including his own creative agency and a family enterprise.
Leveraging his design thinking approach, business acumen, entrepreneurial experience, and a strong network he has proactively built, he helps companies - from across sectors - to build brands and go-to-market strategies, and explore business opportunities.


Tapping into consumer behaviour patterns and sectoral opportunities, he assists companies in developing strategies that align with their short and long-term goals.
What our community members say
It is an excellent course for the introduction of design thinking. In a compelling and fun to follow story, I learned all about design thinking from understanding and empathizing with users to creating and testing solutions to their problems. The course was presented in an easily digestible format with thought provoking questions forcing you to reflect on what you learned. Even better, at the end of each module you share what you learned with fellow students and grow even more from their perspective.
Malique Rahman
Junior User Experience Designer
Loved the storytelling framework used. The content was relevant; quizzes were great, and the references for deeper learning were good suggestions
Jacob Dijo
Director - Sales Operations & Enablement, PropertyGuru Group
The course was easy to use and fun. The interactive method along with a single storyline made learning more engaging. Real life examples like the story about Nicholas Cage were relatable and fun to read and kept me interested. Both theory, story and exercise together made it easier to finish the course. The media of reading, audio and animation used appropriately at different places was a good way to keep me engaged as a user.
Prof. Richa Pant
School of Design, Doon University, Business Owner and Cat Rescuer