Demonstrating Inclusivity at the Workplace
Velocipede, a bicycle manufacturer, is on the verge of launching its latest product -
V-Raptor, a light weight mountain bike.


The team members responsible for this mega - launch are from different backgrounds and life experiences.
Will they be able to overcome their unconscious biases and work collaboratively?


Join the V-Raptor launch team on this storified learning experience where you will learn to adopt an inclusive mindset.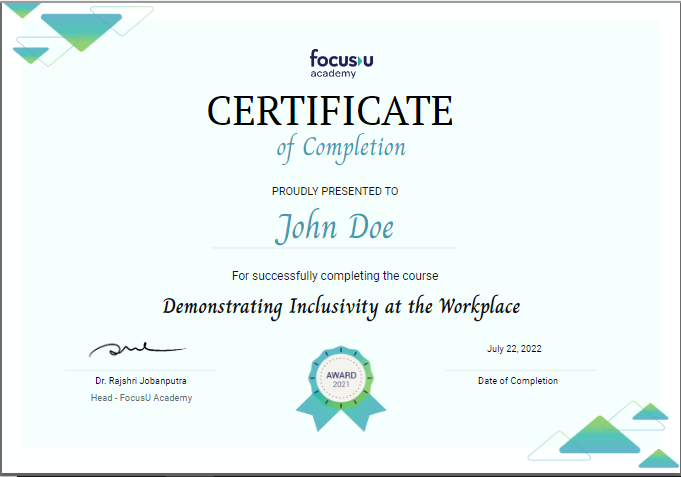 Who will benefit from this course?
People managers leading a team of diverse individuals
Individuals working with team members from different backgrounds, geographies and cultures
Individuals making critical hiring and personnel decisions
Detailed Course Syllabus
Module 1: Introduction to Inclusivity
Meaning of an inclusive workplace and its impact



Examples of inclusive work practices from across the globe
Checkpoint quiz based on inclusive work practices
Module 2: Unconscious Biases & Microbehaviors
Unconcious biases and how they show up at work
Microbehaviours and how they impact our interactions
Video-based checkpoint quiz - Identify the biases playing out in the various scenarios
Module 3: Demonstrating an Inclusive Mindset
Five best practices to demonstrate an inclusive mindset
Two useful downloadable resources
Video-based checkpoint quiz - Use the five best practices to respond to the given scenarios.
Drawing lessons from the pharmaceuticals industry
Understanding Simon Sinek's Golden Circle
How to use the Golden Circle to clarify a team's purpose
Practice exercise
Drawing lessons from the Penguins of Madagascar and the hospitality industry
Understanding different types of team roles
Practice exercise
Time for you to practice what you have learned.

You have joined 'The Best Snitch Co' to lead a team of product developers. Navigate the various scenarios and help drive results for the organisation, while keeping the team engaged.
Know your Course Advisor
Dyti Dawn
Learning and Development Leader
Dyti has been working across various domains of Human Resources - Talent Management, Change Management, Leadership Development and Behavioral Skills Development. Dyti helped to set up the Diversity & Inclusion processes at a major Indian conglomerate.
Dyti is a certified Firo-B practitioner and holds a specialization in "Foundations of Positive Psychology" from the University of Pennsylvania. She is an expert in the areas of Learning Experience Design, Mobile Microlearning, Competency based development and Assessment Design.
Dyti loves to read classic fiction and magical realism. While not at work, she spends time with her dog and her baby girl, or explores the world with her equal half.
She loves to share personal anecdotes of her travels and experiences through her writing. Her favourite quote is by Rumi: "Live where you fear to live."
Well thought out, bite-sized interactive content, with relatable scenarios, examples and quizzes: which interests and informs. I recommend this to individuals, teams and organisations who want to make a difference in terms of equity.
Meera Remani
Leadership Coach