Customer Centricity
Sally, a dedicated Customer Enablement Manager at SnapLocal, a prominent e-commerce store, is passionate about her role. She strives to provide top-notch service to both customers and her organization.

Despite her best efforts, Sally faces challenges in ensuring a seamless experience for her customers while balancing the organization's needs.

But what can Sally do to bridge this gap? How can she redefine her approach to be truly 'Customer-Centric' and create a win-win situation?

Join Sally on an insightful learning journey as she explores the depths of Customer Centricity and discovers innovative ways to excel in her role while keeping customers and the organization equally satisfied.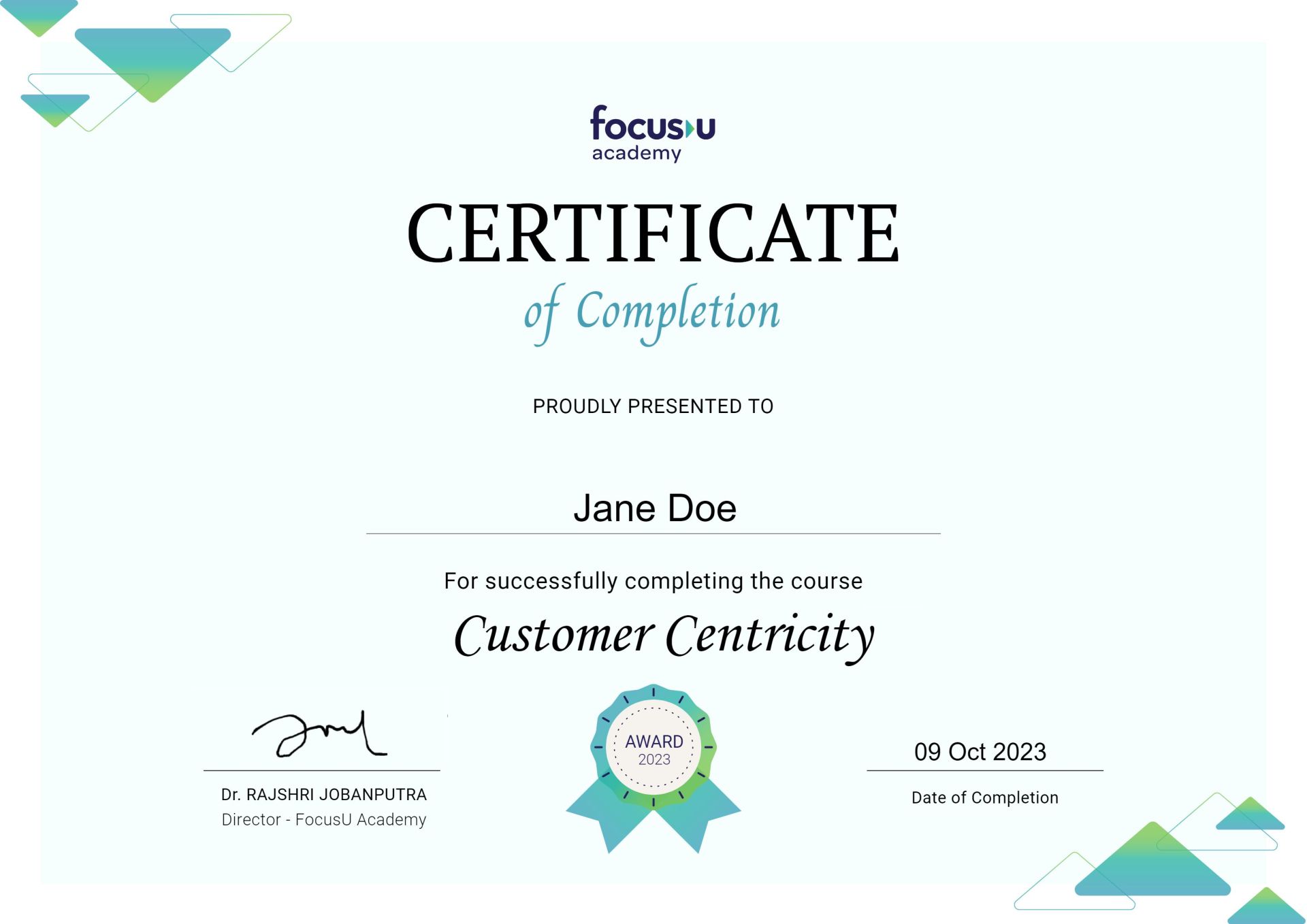 Who will benefit from this course?
This course is designed for leaders, managers, and individuals eager to explore and grasp:
The fundamentals of 'Customer Centricity' and how to instill it within their organizations.
Strategies for prioritizing customer needs while achieving organizational goals.
Techniques for fostering a win-win scenario where customers, employees, and the organization all thrive.
Whether you are a seasoned professional or new to the concept of customer-centricity, this course offers valuable insights to help you excel in your role and create an environment where everyone benefits.
What our community members say
I love the course storyline. It's built in a highly engaging and interesting manner. It's also concise and not overly lengthy. The situations addressed are relevant, and the concepts presented are unique and interesting. The takeaways are very valuable for retention.

- Nirzari Bhide
Client Advisory Manager, FocusU
I loved the fact that this complex topic has been simplified using a storified approach, which is visually very appealing and makes it extremely easy for the learners to understand the finer nuances of acing customer centricity.

- Vidisha Dalmia
Category Head, Business Simulations & Engagement, FocusU
Detailed Course Syllabus
Module 1: Are You Customer Centric?
Explore ways organizations have achieved a win-win proposition with both customers and employees.
Redefine customer centricity considering this win-win proposition.
Module 2: The Win-Win Proposition
Recognize the benefits of adopting a win-win proposition.
Make choices that demonstrate a win-win proposition.

Explore the REAL Deal framework.
Apply the REAL Deal framework to demonstrate customer centricity.

With academic and industry experience spanning over 15+ years, Dr. Rajshri Jobanputra is a Ph.D. in Philosophy from IIT Bombay. Beginning her career as an Assistant Resource Person at IIM Ahmedabad's Students' Personal and Career Development Centre, Dr. Rajshri moved on to IIT Roorkee as Lecturer and later to IIT Madras as Assistant Professor of Philosophy.Realizing early on that her passion for teaching and learning could be extended to learners beyond undergrad engineering students, she took up several L & D roles at different organizations such as Wipro Technologies, Tata Management Training Centre, and KNOLSKAPE Solutions.

As Director of FocusU Academy at FocusU Engage, Dr. Rajshri oversees the design and development of tech-enabled learning products deployable across different mediums (ILT / VILT / online). With the primary motto and commitment to deliver a 'WOW' learning experience for all FocusU learners, she and her team ensure that they build learner centric learning products that are storified, gamified, and application oriented.

A certified Dale Carnegie trainer, who also holds the Cambridge International Certificate for Teachers and Trainers (CICTT) from the Cambridge University, UK, she takes keen interest in the areas of meta-skills, experiential learning, and LX Design. Behind her seemingly serious demeanour, Dr. R as we fondly call her, never misses an opportunity to mention that she is from Goa (just as in this instance), is a plant lover, enjoys games like Scrabble, Uno, and Sequence, and is someone who is ever ready to give recommendations on what to watch on the different OTT platforms – just that she may not remember which platform exactly!
Frequently asked questions
Why should I take a course from FocusU Academy?

We have been in the space of learning and engagement for more than a decade. Hop by and have a look at the testimonials that our workshops have gathered. Our endeavour at FocusU Academy is to bring the same joy to our learners who love to learn anytime, anywhere.
What is the methodology that you use?
Experiential learning with stories, reflection and practice exercises ensures you have an engaging learner experience. We strive to combine deep learning principles with simple storytelling.
Won't the storified format dilute the learning process?
Not at all! Remember Aesop's Fables, Panchatantra and the likes? And all the lessons you learnt as a kid? The human mind is naturally hooked to stories. Learning about different concepts through stories can improve your retention seven-fold.
What is the structure of the course?
Our course is structured into 3 modules. It comprises video lessons, stories, quizzes, and practice activities which will make it engaging for you.
What is the duration of the course?
The total duration of the course is 90 minutes. You have the choice to either take it up in one burst or to engage with it, module wise. The course materials will be accessible to you for a period of 1 year from the time of enrolment.
Will I get a certificate for this course?
Yes, you will receive a socially shareable certificate for this course. To receive your certificate, you would be required to fulfil the proficiency criteria of the course. We strongly encourage you to complete all the exercises in the course.
How can I access the course?
You will be consuming our course on our learning management system.
I would like to share something that I have learned here. Is it ok for me to do that?
You learn when you analyse, share and engage in a topic. So, we would absolutely recommend that you share your key takeaways and reflections from this course. And while you do that, don't forget to tag us using the hashtag #FUAstories.
The content and story of this course are protected by copyright. Hence, we recommend that you read our terms and conditions. If you still have some questions, feel free to contact us at
[email protected]
Can I reach out to a Course Advisor for further assistance?
Of course, you can! Use the option of 'Post a Query' or the 'Discussion Forum' to ask a question. We will respond to you at the earliest opportunity!
What should I do if I face a technical issue during the course?
Use the option of 'Post a Query' on our learning management system. We will respond to you at the earliest opportunity! Alternatively, write to us at
[email protected]
and help will be on its way!
For how long do I have access to the course?
The course will be accessible to you for 1 year from the time of enrolment.
Is there a recommended study plan that I should follow?
While the best part of self-paced learning is that you can learn anytime and anywhere, it helps to plan your study. We would recommend the following for effective completion:
Target the completion of 1 module every week. This includes any assignments and exercises included in the course.
Set aside specific time slots during the week to learn. Based on your convenience, choose either 1 or 2 sittings in a week.
Calendarize and stick to it! Treat your learning as a critical part of your personal and professional growth. Give it the importance that you would give to an important client. In this case, the client is yourself.
Reach out to our course advisors. We have a stake in your growth and we would be happy to help you with absolutely anything.
When are my assignments/exercises due?
You can choose to complete your assignments or exercises at any time during your access. We would recommend that you complete them as part of your regular study plan. Please note that completion of exercises is important for you to fulfil the proficiency criteria to receive your certificate.
Do you have any discounts?
Yes – if you have at least 3 friends to tag along with you, you've got a deal.
Reach out to us from here. Choose the option 'Learn with my friends' and drop us a message.

If you are an HR or L&D person evaluating this for your employees, choose the option 'I want this course for my employees' and drop us a message.
How do I pay for the course?
You can click on the 'Enrol' button on the course to pay for the course. You can pay through credit or debit cards, net banking, wallet or UPI.