Conducting Effective Meetings
Care4U, an organic skincare products company, has lately seen a dip in the Customer Satisfaction (CSAT) Ratings.
Trevor, the Sr. Manager - Channel Partnerships is tasked to investigate the cause of this and find ways to improve the ratings.


In his effort to work on this priority, Trevor will have to effectively conduct multiple meetings with different stakeholders.


Join Trevor on this storified learning experience and learn how to conduct effective meetings.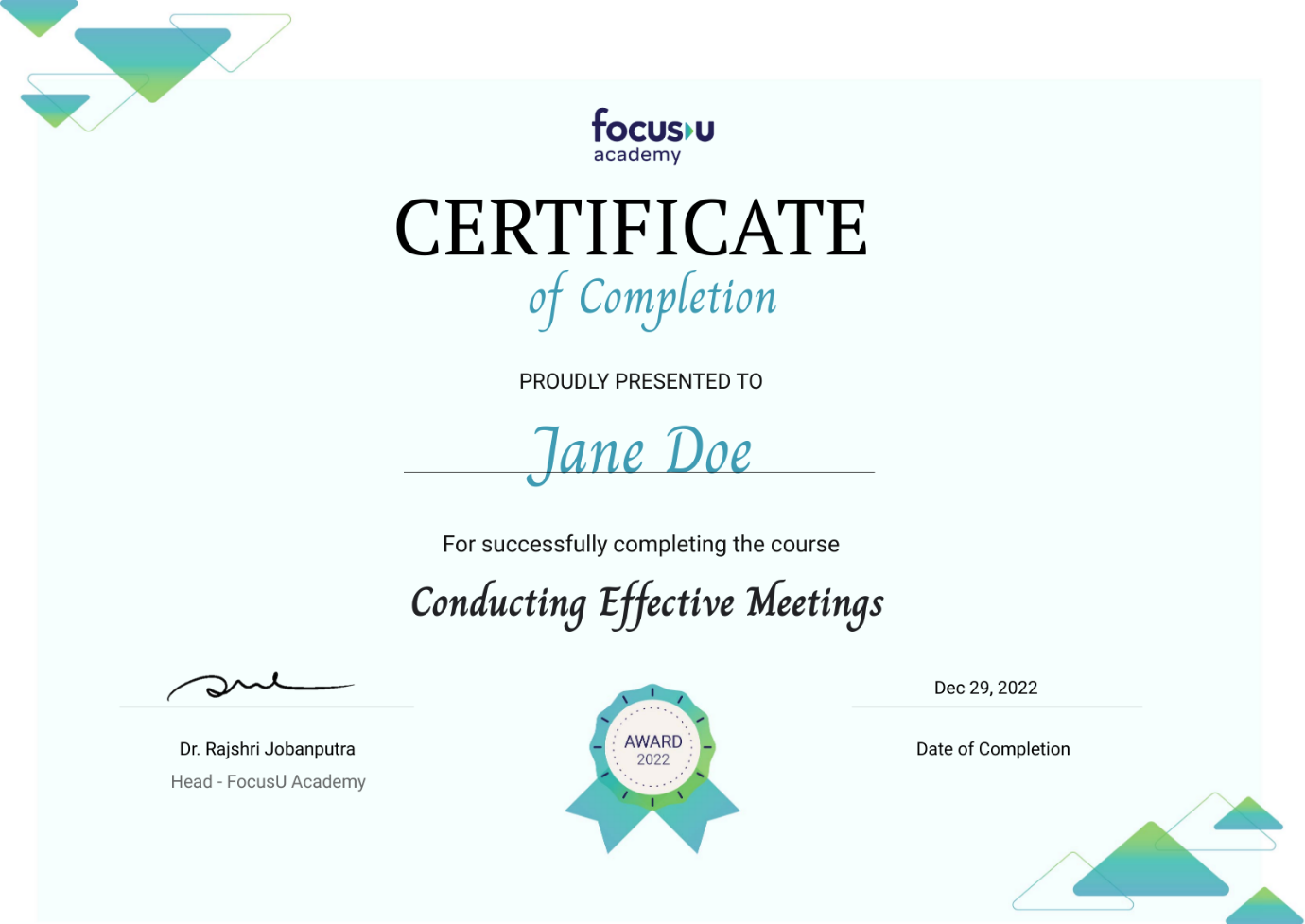 Who will benefit from this course?
Individuals tasked with scheduling meetings
Individuals tasked with facilitating meetings
Detailed Course Syllabus
Module 1: Alternatives to Meetings
Determine if alternatives can be used in place of meetings
Microsimulation - Meeting or No meeting?
Module 2: Prepare for a Meeting
Do the necessary preparation before a meeting

Microsimulation - Go Organic, Feel Better
Module 3: Facilitate and Close a Meeting
Executive a meeting in a structured manner
Demonstrate ideal behaviours during a meeting
Close a meeting effectively
Microsimulation - Tech in Beauty
Hari Hara Subramanian
Author and Career Consultant
Hari Subramanian is an XLRI alumnus with 11+ years of experience in HR & Business roles in diverse organizations like the Mahindra Group & Amazon. Throughout his career, he has worked in a breadth of roles - in HR, Sales, and Customer Success in a variety of industries – automotive, beauty, mental health, and e-commerce.
Hari was a member of the Mahindra Group's Automotive Sector Shadow Board (a group of hi-potential young leaders nominated from across businesses) and received an "Outstanding Contribution" Award from Mr. Anand Mahindra for his work.


Hari is passionate about writing and is the author of the best-seller "Hilarious MBA Memoirs", which is a satirical take on B-school life. Hari has also contributed various HR and sports articles to leading online media houses.
Currently based in Sheffield (U.K), Hari works as an independent consultant and double hats as a stay-at-home dad.
Connect with Hari on LinkedIn: https://www.linkedin.com/in/rhariharasubramanian/
An alumnus of the Indian School of Business (ISB), he brings to the table an experience of a decade and a half in building brands and businesses, including his own creative agency and a family enterprise.
Leveraging his design thinking approach, business acumen, entrepreneurial experience, and a strong network he has proactively built, he helps companies - from across sectors - to build brands and go-to-market strategies, and explore business opportunities.

Tapping into consumer behaviour patterns and sectoral opportunities, he assists companies in developing strategies that align with their short and long-term goals.
What our community members say
The User Interface of the course "Conducting Effective Meetings" is very user friendly. I enjoyed the play sections thoroughly. The information provided in the course is lucid and to the point. The course content will help me in the future.
Arpita Bandopadhyay
The course really helped add some practical strategies to my
arsenal. The case study and microsimulations kept me
engaged and drove better learning outcomes. I loved how the
portal was very easy to navigate and thoughtfully designed to
create an immersive learning experience. Will definitely
recommend this quick crash course on conducting effective
meetings to everyone as it's such an important skill to be
productive at work!
Anushka Kapur