Nidhi has been shortlisted by Meteora, a travel experience company with a unique business model.
Nidhi loves the kind of work Meteora is doing and aspires to join the company.
But before that, she must crack the behavioural interview.
Join us in this storified learning experience where you will learn to ace your job interview.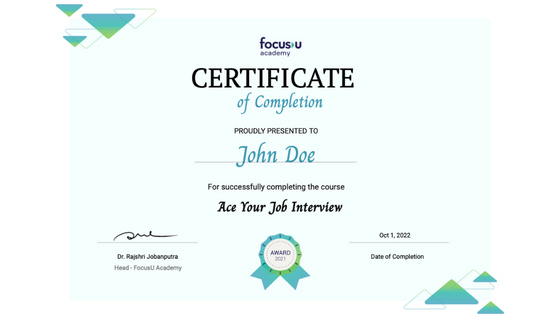 Who will benefit from this course?
This course is ideal for:
Students appearing for placement or campus interviews at their institutes
Individuals preparing for job interviews which involve HR or behavioral rounds
Detailed Course Syllabus
Module 1: Course Introduction
Pre-course questionnaire to assess one's preparedness for job interviews
Understanding the course structure
Module 2: Create a Positive First Impression
ACE-JOB Checklist to create a positive first impression
Checkpoint quiz to assess learner's preparedness before an interview
Module 3: Demonstrating Confidence
Outline various aspects of body language and speech to demonstrate confidence
Checkpoint quiz to assess body language and speech of interviewees in the given scenarios
Module 4: Responding to Behavioral Questions
Different types of behavioral questions
Application of the STAR (Situation – Task – Actions – Results) method to respond to behavioral questions
Downloadable Resources

Do's and Don'ts of responding to behavioral questions
The STAR Method with a detailed example
Customizable STAR Worksheet for interview preparation
Sample responses to common behavioral questions

Scenario-based checkpoint quiz to assess learner's ability to respond to behavioral questions
Respond to any two behavioral questions using the STAR Method
Know your Course Advisors

Hari Hara Subramanian
Author and Career Consultant
Hari Subramanian is an XLRI alumnus with 11+ years of experience in HR & Business roles in diverse organizations like the Mahindra Group & Amazon. Throughout his career, he has taken worked in a breadth of roles - in HR, Sales, and Customer Success in a variety of industries – automotive, beauty, mental health, and e-commerce.

Hari was a member of the Mahindra Group's Automotive Sector Shadow Board (a group of hi- potential young leaders nominated from across businesses) and received an "Outstanding Contribution" Award from Mr. Anand Mahindra for his work.

Hari is passionate about writing and is the author of the best-seller "Hilarious MBA Memoirs", which is a satirical take on B-school life. Hari has also contributed various HR and sports articles to leading online media houses.

Currently based in Sheffield (U.K), Hari works as an independent consultant and double hats as a stay-at-home dad.
What our community members say
I liked the simplicity with which you have put the course.
It was well set. I liked the graphics and videos the most. The situations in the course were relevant. The resources for download were useful.
Hardeep Singh
MBA Finance Student
Amity University
The overall experience of the course is great. I liked the detailed explanation regarding the interview cracking process and the visual elements in the course.
Mahashish Dutta
Project Management Trainee
HCL Technologies